If you require fencing services that only installs quality garden fencing in North London then you have come to the right place. Do you need to do a fence panel repair or replace your new boundary fence altogether? We say, give GreenFellas fencing North London a call and have it done for you.
Our timber fencing is high quality and we never use cheap budget materials in our work. This is because the cheap quality materials make a sub-standard fence which last only for 5 years or so which then you would need to make repairs or even a new replacement. Our expert fencing installers will only use high quality British standard timber material which would provide strength to the fence and it will last for a very long time.
Services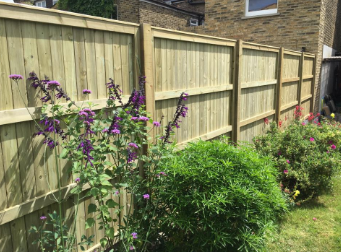 GreenFellas fencing gives its customers a local fencing contracting service which promises to deliver and on time.
We have experienced and expert fence builders which have been carefully selected and trained to work on your assignment.
Reviews and Ratings
I am delighted with the work done by Greenfellas. They were professional, polite, friendly, and arrived promptly (at 7.30 am) each day. Dave kept me informed of weather delays (the recent inclement weather had put paid to our original appointment) with courtesy and well in advance. The price was also very reasonable compared to local alternatives. I have no hesitation in recommending Greenfellas to anyone, and will go back to them when I want a new shed in a few months time.
We are really pleased with our new fence, it looks lovely and its far more stable and attractive than the mismatched old one. Dave and the team were great, arriving so promptly and so concenscious about not leaving a mess anywhere. Dave also helped to source a particular style of fence we wanted and was really responsive by email, text and phone. We would definately recommend GreenFellas to any of our neighbours (or anyone else!) needing a new fence.
Dave and his team of merry men did a fantastic job of both our back and front gardens. He also helped us source some plants after a horrible experience we had with an online supplier. We're very happy with the end result and would highly recommend Green Fellas!